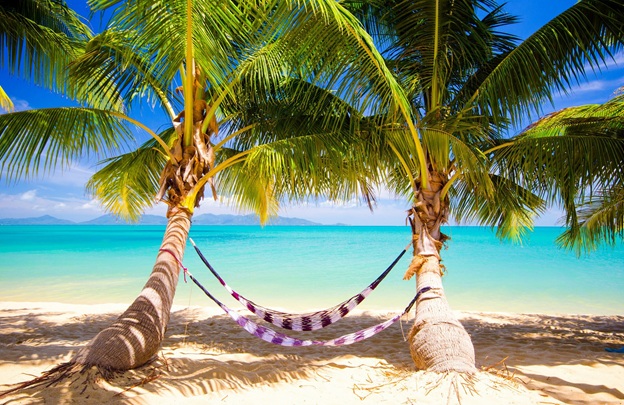 What to Pack for a Tropical Vacation
The tropical island vacation can be a once-in-a-lifetime experience. There's a reason so many wealthy retirees, stars of popular culture, and those looking for a more laid back life flock to tropical destinations all over the world.
The island vacation is seen by so many people as a taste of the good life. Relaxing on the beach, relishing in a laid back life as the ocean waves flow. There's not a cloud in the sky, and the sand is soft and the sun is just hot enough to help you relax your cares away.
Like any vacation, though, the best way to have a great time is to make sure you're prepared for just about anything. Get excited! You're going on vacation!
Travel Documents
There's a good chance you'll be leaving the country if you're going on a tropical vacation. Even if you're not, there are important travel documents you're going to need to take with you.
If you're traveling abroad, take your passport with you. You will need this to get through customs whether by land, sea, or air. Going without it is asking for delays, trouble, and possibly being turned away at the border, thwarting your travel plans before they even begin. Additionally, you may need a visa, depending on where you've come from and where you're going. Be sure to research this well before you travel.
Skin Care
There are a few risks when going on a tropical vacation, one of the many risks being the sun. Though it's relaxing, and though the heat is expected and even welcome in most cases, you should still have the supplies on hand to make sure your skin and your body stay healthy while abroad.
Even if the weather isn't particularly hot, the sun still has the potential to burn you. It's a matter of geography; you may be at a higher altitude or you might be closer to the equator, but either way, the sun simply doesn't behave the same way as it would at home. Keep yourself protected with sunscreen and lip balm.
In any location, you'll likely want to use bug spray, but particularly when you find yourself in a tropical location. The bugs native to the area may carry diseases your body isn't prepared to handle.
You'll also want to include your usual essential toiletries to take care of your skin, such as a high-quality face wash to get rid of any oils, sunscreen lotion, and sand at the end of the day and baby powder or foot powder to prevent chafing (which can be made so much worse by the sand). Don't forget your other essential skin care items such as your moisturizer, serums and toners, etc.
Clothing
Whatever you wear for warm weather should be acceptable to pack for your trip. However, there are a few factors to keep in mind as you pack your things.
First of all, you'll have to keep the island culture in mind. Some cultures are simply more conservative than others. This means, ladies, it would be a good idea to choose to leave the skimpy bikini at home in favor of a one-piece or perhaps a nice pair of shorts with your bathing suit. Men, it may be a good idea just to leave the shirt on to respect the more conservative cultures. Keeping more covered will also expose less skin to the sun, which means you won't get burned as easily in certain spots.
In order to conserve that precious little packing space you have, you'll want to pack clothing that can be used for multiple occasions and be combined into multiple outfits. This means bringing simple-patterned blouses and shirts, capris and shorts, perhaps slacks or a nice sundress if it's appropriate. Packing sunglasses and something to protect you from the rain is also a good idea.
You should use caution if you're going to take jewelry with you. Avoid bringing expensive pieces with you or wearing much jewelry at all. Wedding bands are fine, but going beyond that could tempt thieves, and there's a possibility you could run into some, especially in areas where tourism is popular.
Camera
Making memories is half the fun of vacations. A standard digital camera is great for vacation photos; be sure to pack spare batteries and maybe even a spare SD card or two (or canisters of film, if you really want to go old-school). You may not end up using the spare film or memory cards (though the spare batteries are always a smart idea), but it's good to have it all the same. Being on vacation is going to be expensive enough with paying for food, excursions, souvenirs and the like; adding a memory card or film onto the list of expenses simply because you forgot the spares at home is preventable.
Additionally, you may want to shoot some action video with a waterproof camera like a GoPro. If you're not ready to take the plunge (no pun intended) and purchase a full-on GoPro kit, you'll find there are less expensive models available at your favorite electronics store that can work just as well for your needs.
Extra Space
We touched on this a little bit earlier, but it's good to pack light and conserve space as much as you can, to the point that you may want to include "extra space" on your packing list. There's a very high chance you're going to be coming back with more than you left with in the form of souvenirs and gifts. Being able to pack the little extras in a bag rather than giving yourself another shopping bag or piece of luggage to track will save you some hassle and make traveling that much smoother for you.
To Wrap It Up…
Don't save packing your things until the day or night before you leave for your tropical vacation. Be smart about the bags you pack and try to have everything ready the night before. Pack light but make sure you pack a little extra on the things that count such as memory cards, sunscreen, and so on. Be smart, pack ahead, and perhaps most importantly, have fun!
Resources— Global Munchkins, Trip Savvy